Daria van den Bercken
Human: Nature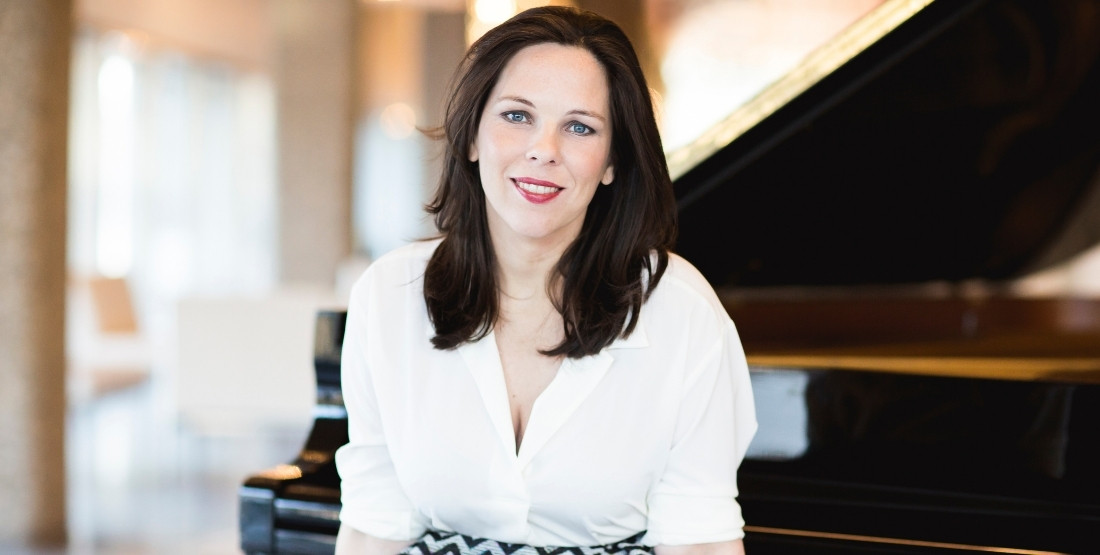 Human: Nature
Daria van den Bercken
"The most beautiful album of the year has already been delivered by Daria van den Bercken. Van den Bercken's intimate, colorful, tender and sometimes fierce pianistic performance ensures that the pieces, by composers such as Rachmaninoff, Liszt, Debussy, Couperin and Lili Boulanger, gain extra meaning for the listener." Het Parool
"Daria van den Bercken not only sings, she sparkles, roars and whispers on her new album. It is an extraordinarily tasteful ensemble of diverse pieces." De Volkskrant
"For her magnificently original album, pianist Daria van den Bercken collected twelve 'nature' compositions and wove them together into an 'imaginary suite'. Surprising pieces (..)" Trouw
"Daria van den Bercken's piano playing on this CD swirls, trickles and flows. And above all, her personal story of relationship between art and nature really resonates. So turn it on and experience Daria's journey from beginning to end."
Hans Haffmans NPO Radio 4
The music on this album takes its inspiration from the romantic idea of nature. A collection of works that portray nature, explore memories of nature, use nature as a metaphor, based on poems and prose about our relationship with nature. 
Over the centuries, brilliant composers have expressed the beauty of nature, while also drawing inspiration from philosophy: in the final and greatest poetic meditation on this album  Liszt uses nature as a metaphor for life and human suffering.
I hope this album gives you the same feeling that I have experienced in making it: nature is bigger than us, bigger than our greatest joys and deepest sorrows. Nature will and should always remain a source of inspiration for humanity and art, and it is our responsibility to treat it with care and respect. Daria van den Bercken
Human: Nature, an imaginary suite
1) 12 Songs, Op. 21: V. Lilacs (Transcr. Rachmaninoff for solo piano) – Sergei Rachmaninoff 
2) 2 Études de concert, S. 145: No. 1 Waldesrauschen – Franz Liszt
3) Images, 1ère Serie, L. 110: I. Reflets dans l'eau – Claude Debussy
4) 12 Études d'exécution transcendante, S. 139: No. 11 Harmonies du soir – Franz Liszt 
5) Préludes, Livre II: II. Feuilles mortes, lent et mélancolique – Claude Debussy
6) Années de Pèlerinage II, S. 161: VI. Sonetto 123 del Petrarca – Franz Liszt 
7) Études-Tableaux op. 33: No. 8, in g minor – Sergei Rachmaninoff
8) Pièces de clavecin, Livre III, Ordre XIII, in B Minor: I. Les lis naissans – François Couperin 
9) Pièces de clavecin, Livre III, Ordre XIII, in B Minor: II. Les Roseaux – François Couperin 
10) D'un jardin clair – Lili Boulanger
11) Nuages Gris, S. 199 – Franz Liszt
12) Années de Pèlerinage Vol.I, Première année: Suisse, S. 160: No. 6 Vallée d'Obermann – Franz Liszt 
Recorded @De Vereeniging Nijmegen
Dutch-Russian pianist Daria van den Bercken is a multiple prize winning artist. Daria is widely celebrated for her 'musical affection and an immaculate virtuosity' (Gramophone), as well as regarded 'a model for musicians of the future' (Jury Amsterdam Art Prize).
Her passion is to actively reach as many people as possible, enticing both classical music lovers and new audiences alike. To publicise her music, she even started taking her piano playing to her audiences, instead of getting them to come to her – she's played the piano while being towed down Amsterdam's canals, and even while dangling from a crane high above her audience! In a popular TED Talk, she explained how a state of 'pure, unprejudiced amazement' is what fuels her.
She's become an international smash hit with projects like Handel at the Piano and Keys to Mozart.
Both albums had the press writing about 'mixture of joy and lightness', 'allowing expressive freedoms and poetic emotiveness'.
Follow Daria van den Bercken on her socials for regular updates