Daria van den Bercken
Free the Piano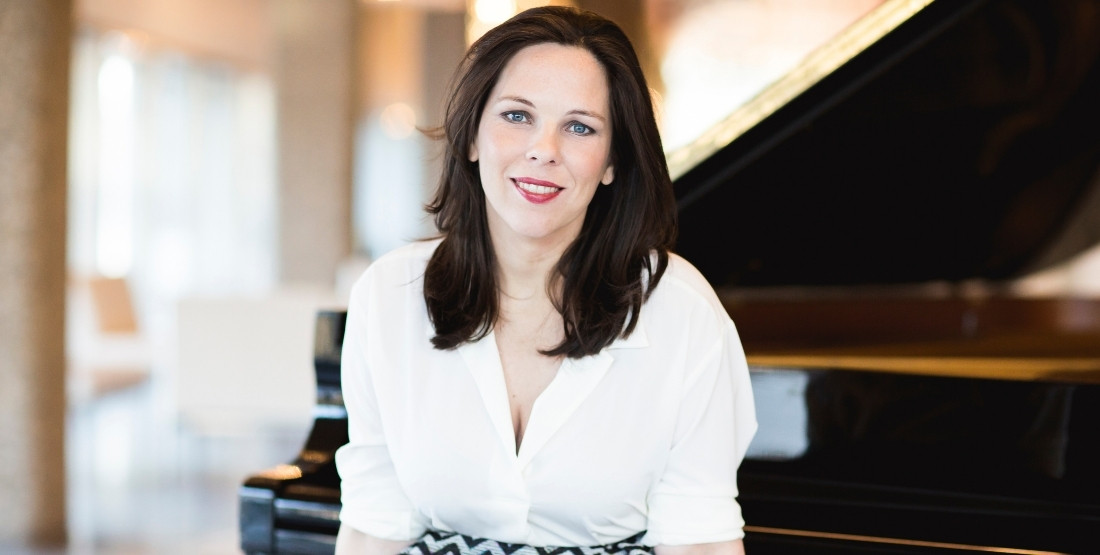 Free the Piano
Daria van den Bercken
Free the Piano
It all started with J.S. Bach, is what we often say about piano music in general. Of course, this is not entirely true, because before Bach, there were great composers active for the harpsichord, clavichord and the language of music in general. But this story of keyboard music nevertheless begins with Johan Sebastian Bach. And for one reason. In the Fifth Brandenburg Concert, as he often did in these concertos, he assembles a motley ensemble of players for an imaginative and playful new "concerto grosso". The harpsichord is also there as the instrument absolutely belongs as basso continuo. That is, the harpsichord is always accompanying the rest together with the string instruments cello and violone. In the beginning, you soon hear that the harpsichord plays a bit more than just this accompaniment. Meanwhile, soloists are all playing melodies and thus having conversations with each other. And then suddenly there comes a moment when the harpsichord suddenly doesn't stop playing, the fast notes are piling up. Of necessity, the other instruments fall silent because something special is going on: the harpsichord plunges into a five-minute solo that had no equal in Bach's time in ensemble playing. And exactly that, that breaking free, has turned out to be a unique moment in music history, a groundbreaking moment. That moment became the beginning of what we have come to know as the "concerto for piano and orchestra. "FREE THE PIANO!
On this album, Daria combines J.S. Bach's Fifth Brandenburg Concerto with pieces that, for her, represent Free the Piano. For instance, because they match the virtuosity of the Brandeburg Five cadenza, as virtuosity -as an etude or as a recital piece – propels a pianist forward into new worlds. Or music which to an extreme degree opens up a subtle and small yet important range of feelings. As expressing the smallest and relaxing gesture is in it's own way very liberating, that is not just reserved for the grand and compelling.
Reviews Human: Nature, an imaginary suite
"The most beautiful album of the year has already been delivered by Daria van den Bercken. Van den Bercken's intimate, colorful, tender and sometimes fierce pianistic performance ensures that the pieces, by composers such as Rachmaninoff, Liszt, Debussy, Couperin and Lili Boulanger, gain extra meaning for the listener." Het Parool
"Daria van den Bercken not only sings, she sparkles, roars and whispers on her new album. It is an extraordinarily tasteful ensemble of diverse pieces." De Volkskrant
"For her magnificently original album, pianist Daria van den Bercken collected twelve 'nature' compositions and wove them together into an 'imaginary suite'. Surprising pieces (..)" Trouw
"Daria van den Bercken's piano playing on this CD swirls, trickles and flows. And above all, her personal story of relationship between art and nature really resonates. So turn it on and experience Daria's journey from beginning to end."
Hans Haffmans NPO Radio 4
The music on this album takes its inspiration from the romantic idea of nature. A collection of works that portray nature, explore memories of nature, use nature as a metaphor, based on poems and prose about our relationship with nature. 
Daria van den Bercken
Dutch-Russian pianist Daria van den Bercken is a multiple prize winning artist. Daria is widely celebrated for her 'musical affection and an immaculate virtuosity' (Gramophone), as well as regarded 'a model for musicians of the future' (Jury Amsterdam Art Prize).
Her passion is to actively reach as many people as possible, enticing both classical music lovers and new audiences alike. To publicise her music, she even started taking her piano playing to her audiences, instead of getting them to come to her – she's played the piano while being towed down Amsterdam's canals, and even while dangling from a crane high above her audience! In a popular TED Talk, she explained how a state of 'pure, unprejudiced amazement' is what fuels her.
She's become an international smash hit with projects like Handel at the Piano and Keys to Mozart.
Both albums had the press writing about 'mixture of joy and lightness', 'allowing expressive freedoms and poetic emotiveness'.
Follow Daria van den Bercken on her socials for regular updates